July 2022 Newsletter: "SummerLover and Club Passim"
Hello, friends! I'm in my glory here, in the heat of the summer, and trying to take some time everyday to appreciate these precious (to me, anyway!) long days. I hope that even if this isn't your favorite season, you are finding some time to slow down a bit.
I feel the elusive muse swirling around me, and I'll be taking some time in these next weeks to partake in the challenging, fulfilling, heartbreaking, frustrating, joyous, and occasionally awe-inspiring dance of songwriting. I'll let you know how it goes at the next show ;)
And, I'm writing about that next show 'cause I wanted you to be the first to know... that we'll be playing at the legendary Club Passim on Thursday, September 22nd at 8pm! We'll even be joined by our friends Bethany Weiman on cello and Jerry Sabatini on trumpet.
Some of you may know that Passim was one of the main reasons I moved to Boston to try to become a songwriter. I had spent my life singing and wanting to sing anytime, anywhere, and it never fully occurred to me that I could sing MORE if I were a singer/SONGWRITER! So easy, right?! (I don't have access to the eye-rolling emoji here, so please imagine it right now) My dream was to play there, and that dream came true when we had our album release for Warmer Season on their very stage back in 2014. We had a few subsequent, equally magical shows there before the pandemic hit... when we were supposed to release Longitude, and instead had a livestream. 
Tickets ($22/20) are already on sale for Passim members, but they'll be available to the public this Wednesday at noon, if you'd like to grab yours! They will also be livestreaming it for $5 (free to members) the week of the show. (please see COVID restrictions- proof of vax will be required)
Thank you all for reading and for spreading the word... I'd still be singing and writing even if no one were listening, but it sure is nice to have some folks listening :)
Enjoy these summer days and hope to see you soon with some new music...  xx  Britt
May 2022 Newsletter: "Two More Shows and 'Viriditas'"
Spring/Summer Greetings! I know... technically, it's still spring, but Memorial Day weekend is the unofficial start of summer, and I'm in my element - I'm finally NOT cold all the time :)
We had a really special night with our new lineup of Bethany Weiman on cello, Phil Sargent on guitar, and Jerry Sabatini on trumpet/flugelhorn at Sanctuary earlier this month, and I'm still carrying that night with me. In my last newsletter, I may have said that you wouldn't hear from me for a while... but before I take a little break from gigging, I want to highlight these last 2 shows before aforementioned break. Booking shows has never been easy, but it's been even harder (for me, anyway) post-pandemic. Love to see you if you're in the area!
* Fri June 3 - Blue  Portland, ME - 8pm -9:30pm 
We had such fun in March with the same lineup: Bethany Weiman on cello, Jerry Sabatini on trumpet, Ed Lucie on bass, and Mike Connors on drums. No cover, just playing for your generous donations!
* Sat June 4 - Borrowed House Concerts - Plaistow, NH - 6pm (music starts at 7pm)
Tickets $20 - a few tickets left! Address disclosed upon purchase, for this intimate concert series. Can't wait to play at this "borrowed house" with Ed Lucie on bass and Mike Connors on percussion
And, finally, in another nod to my last newsletter in which I talked about my gratitude for "The Greening" that occurs in April/May, as the brown landscape magically transforms into lush greenness and colorful buds, I leave you with this quote I recently read from Hildegard von Bingen (forget "Triple Threat" status - she would've been regarded as at least a "Quintuple Threat" in her day):
"There is a power that has been since all eternity, and that force and potentiality is 'viriditas', the greening."
- Hildegard von Bingen (1098-1179)
Be well and stay in the green....   xx  Britt
April 2022 Newsletter:  "Cold but Green in April"
Springtime Greetings! On this Earth Day I'm looking out the window and taking time to appreciate "The Greening." People who know me know that I'm almost always cold. I hate being cold. And yet, I live in a part of the world that is cold and cool more often than it is hot and warm. (I know... maybe I should rethink my life choices?!) But, as cold and windy and capricious as this April has been, what gets me through is the annual Greening. There's less brown and more green almost by the hour as I watch the willows go from yellow to chartreuse to green, and leaves start to cover up the brown sticks. I can't wait to be warm again, but I'll take the green for now, during this still precarious time and phase of the pandemic.
Gigs have been a little harder to come by, even as folks are still getting sick with Covid, and I'm grateful for the leeway people are giving others when things have to be shifted or rescheduled to keep everyone safe. That said, I've got 3 exciting SHOWS coming up, but this could be it for a little while, as I focus attention on writing and then recording, rather than seeking out gigs.
Our big show at beautiful Sanctuary is in 2 weeks! We had so much fun at Blue in March, playing some new arrangements with Bethany Weiman on cello and Jerry Sabatini on trumpet/flugelhorn... that we're bringing the whole crew to Sanctuary!
* Friday, May 6 - Sanctuary in Maynard, MA - Doors at 7pm, Music at 8pm. This beautiful venue is a renovated church with swanky bar/lounge in the back - very open and spacious with table service for beverages and option to bring in food of your own. Tickets HERE. (please note Covid restrictions: proof of vax or negative test required)
Then we'll be back at our beloved
* BLUE in Portland, ME on Friday, June 3rd  8pm - 9:30
And we'll get to play our first show in the selective lineup at
* Borrowed House Concerts in Plaistow, NH -
Saturday, June 4th at 7pm. With Ed Lucie on bass and Mike Connors on percussion. Limited tix available, and address disclosed upon purchase!
Thanks for all your support and for reading this. I'm grateful and pleasantly surprised when anyone takes a spare moment to listen to me or my music :) I'll leave you with this older video of a tune from my second album. We plan to resurrect "Distance" in our new band format at Sanctuary... Hope to see you out there...
xo Britt
Feb 2022 Newsletter: "Impermanence and Blue"
Happy 2022, a little late! In my last newsletter in November, I mentioned that it might be a minute til I wrote, and so here we are in February! I've been going the way of the groundhogs and bears in semi-hibernation-mode, trying to manage more shifts in my ongoing challenges with EoE (Eosinophilic Esophagitis) and grappling with the idea of "impermanence." Deep thoughts here... too deep for this newsletter, but they will be making their way into some new songs :) I realized the other day that my song "Beaufort Breakdown" is actually about my strong and surprised reaction to impermanence hitting me in the face, and you know what? I ended up grateful for the opportunity to grow and be successful in a way that I couldn't have foreseen. Good on ya, universe...
After a break from gigs and booking shows, I am REALLY excited about our return to our favorite Maine venue --
Blue Portland, ME -  Fri, March 4 at 8pm-9:30pm!
We haven't been back in-person since Leap Day (2/29) in 2020... right before the world shut down. We were so happy to do a few livestreams and support Blue through the worst of the shut-downs... and they made it! AND, we will have a very cool line-up with some new arrangements of my tunes, with Ed Lucie on bass and vocals, Mike Connors on drums, and the incredible Bethany Weiman on cello, as well as our pal, Jerry Sabatini on trumpet/flugelhorn! Oh, it's gonna be so cool :) 
We are psyched to play again at Sanctuary in Maynard, MA on May 6th after a beautiful evening there in October. We're back at Blue in June. I also booked a very cool new show with Borrowed House Concerts near Plaistow, NH on June 4. All the info is on the SHOWS page, and I'll pop back into your inbox before that!
Finally, back to the grappling with impermanence... Mike and I lost our beloved cat, Charlie, suddenly and unexpectedly a couple of weeks ago. It definitely didn't seem like his time to go, and yet, I guess it was. The heartbreak has been lessened by the outpouring of love we've received from so many people who got to know him and love him, and we certainly feel embraced. So, thank you for indulging me and staring at this picture of our furry orange buddy! Our love is maybe the only permanent entity :)  
Thanks for reading and please stay well....  xx Britt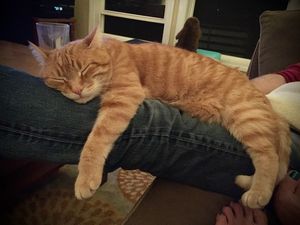 Nov 2021 Newsletter: "An Extra Helping of Grace"
Thanksgiving Greetings! As this year's Thanksgiving weekend comes to a close, I want to slip in my final newsletter of the year, before the holiday rush finds us all on the other side of 2021, wondering how it happened so fast... 2021 has been weird and hard for many of us, sometimes harder than 2020 in that we had to jump busily back into a new "normal" that was not always met with patience and understanding, even after feeling so closed-off for so long! Maybe what my circus brain is trying to get at here is this: managing expectations? Anyone else feel like that's been a theme? I definitely didn't expect to spend most of the year trying to manage and heal my esophageal issues, but I'll count my EoE diagnosis as something I'm grateful for this year - I know I'm lucky to feel well, and I've vowed not to take that for granted :)
I'm also grateful for being able to celebrate "Longitude" with so many of you at beautiful Sanctuary in October - we had a truly magical evening with special guests Bethany Weiman on cello and Dan Rosenthal on trumpet, and the night helped me close what felt like an unfinished chapter with that record. We'll be back at Sanctuary on May 6th 2022, a day on which 4 of my good friends have birthdays, so we'll make it epic!
Our last show of 2021 is Sunday, Dec 19 at 10pm at a newer venue, The Jungle, in Somerville, MA - I'll be playing trio with Ed Lucie on bass and Mike Connors on drums. I know it's a late Sunday night, but if you're up for a quick 45-min set of some rockin' to say goodbye to 2021, please do stop by! No cover, just $5 suggested donation, masks required. (Alec Morrissey opens the night at 9pm and Michael Boezi plays at 11pm with Mike and Ed backing him up)
I'm grateful for all of you reading this and supporting music and art, and I hope I can see even more of you in 2022! New songs and projects are bubbling up from under the surface - can't wait to share! Feel free to check the SHOWS page for updates. Be well and stay well... xx  Britt
Oct 2021 Newsletter: "Belated In-Person 'Longitude' Release Party!"